One day I'll try to make a post about all the people in my f-list who write original fiction and has been published, because I'm pretty sure some of you don't know the other you and it's a pity. But, as the lazy-ass that I am (I truly, really, absolutely am), I always leave it for "later".

However, one of those authors is holding a giveaway for her most recent work and I wanted to take part and also spread the word: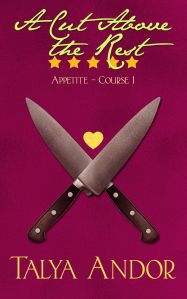 In all honesty, I can't say anything about the book itself because I haven't read it. I respect Talya as a writer, though, even if it's been years since we had a common fandom. But if I have to say, from the top of my head, my five favourite smutty original fics, one of those stories is hers.

I could copy/paste the info, but I think it's better if you go directly to the post of the giveaway here in her blog, so that you can read an excerpt, take part in the giveaway or pre-order a copy if you were just wondering what you could next purchase as a reading.

And that's all for now.



Also posted at http://lauand.dreamwidth.org/106134.html, if you'd rather read it there or want to enter a discussion with
comments.